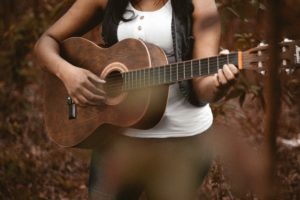 So, it's been well over 3 months of quarantine for most of us, and the world is starting to look a little grey around the edges. You've binged watched every episode of Star Trek, The New Girl, and Grey's Anatomy, and it's starting to feel like you're having legitimate conversations with your toaster.  So maybe it's time to start expanding your mental stimuli. There is a myriad of options out there as far as indoor hobbies, as we've all seen the successful and not-so-successful attempts to build birdhouses out of toothpicks and peanut butter, sew home-made masks out of unmatched socks, and bake an "I'm-sorry-I-used-your-socks-for-a-face-mask" cake for your housemate.
But consider maybe now's the time you finally hunker down and learn to play that instrument you've always wanted. And if you don't already own it, monthly rentals for most instruments are the equivalent of a few cups of Starbuck's Mocha Latte Frappuccinos.
Studies have shown the benefits of not only learning a new skill helping with increasing brain function and staving off dementia but also, playing a musical instrument can be a rock-solid form of self-soothing when you feel like you just can't keep your marbles together for one more minute. Focusing on learning a new skill requires concentration, dedication, and consistency. All of these are things that might be in shorter supply these days.
And while it may be frustrating in the beginning, learning that instrument will give you a new sense of purpose and accomplishment, which is something that we all could use a little more of right now.